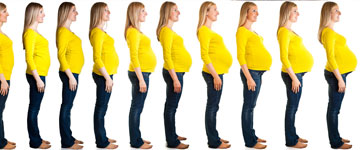 Weeks pregnant 22 weeks pregnant
22 weeks pregnant – the changes in you
Often in this period you feel really good. Your bump is showing nicely but is not yet so big that it becomes a hinderance. You are probably not feeling as tired and have the energy to do any number of tasks. Enjoy this period of your pregnancy. This is also a good time to book a holiday or weekend away.
22 weeks pregnant – how is your baby growing?

Your baby is now approximately 28 to 29 centimetres long and weighs about 450 grams. He sleeps almost the whole day but when he wakes he is very active. If you are carrying a girl then it is in week 22 that the baby's uterus is formed, including several million egg cells. At birth this has reduced to around 500,000. In week 22 the sweat glands are developing. A boy's sex organs are now clearly recognisable.
Your pregnancy week by week
Find Beautiful baby names 2023
Best articles about Weeks pregnant
Your pregnancy week by week with the growth of your baby. Read our best articles: