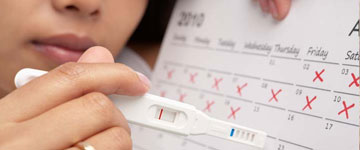 Pregnancy test Negative test results
If your period is late it can mean you are pregnant. But what if the pregnancy test shows a negative result? Findababyname.com explains why this might be.
If your period has not started on the first day that it falls due, then you are overdue. From this day onwards you can take a pregnancy test.
Late period – negative pregnancy test – not pregnant
It can be that you have symptoms of feeling pregnant but the test reads negative. Or maybe you are overdue by a number of days or even a week late but according to the pregnancy test you are not pregnant.
Pregnancy is not the only reason why menstruation has not occurred. There can be other reasons. Firstly you may have mistaken the dates in your cycle and you are in fact not overdue. Another reason could be that the ovum (egg) is released later than usual, possibly due to stress. This can cause a late period. Also if you are ill your period can be delayed or if you have lost a lot of weight. If you continue to miss your period and the pregnancy test remains negative you should consult your GP and request a blood test.

Late period – negative pregnancy test – pregnant
If you are overdue and the pregnancy test is negative you may still be pregnant. The probability of pregnancy increases as you wait longer for your period to start and you experience more pregnancy symptoms. It could be that you have taken a pregnancy test too soon.  The presence of HCG-hormone is too small to detect in the urine. It can depend on how sensitive the pregnancy test is and it is advisable to retest after a few days.
Another reason for a negative result, even though you are pregnant, is that the pregnancy test was not carried out properly. For example you have not left the indicator stick long enough in the urine, or have left it too long. It is also important to have used fresh urine. If the negative test results remain and you still do not start your period then consult your GP. A blood test carried out by the doctor will reveal if you are indeed pregnant.
Find Beautiful baby names 2023
Best articles about Pregnancy test
Pregnancy test. How and when to do a pregnancy test and more information about pregnancy tests. Read our best articles: