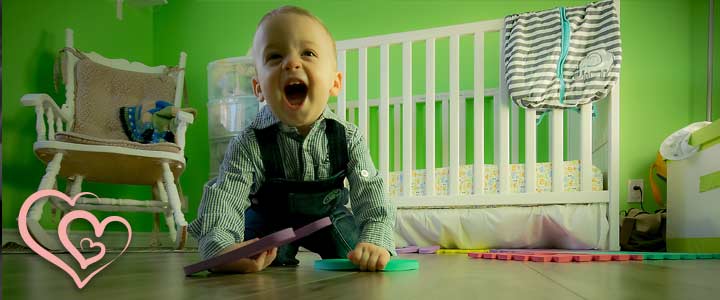 Pregnancy and baby blogs Baby proof your home
Blog written by OanaWrites •
Blogger PregnancySymptomsTest.com from March 2017

How To Baby-Proof Your Home From Zero To Hero
If you've just given birth, then you probably already feel that magical and never-ending love. A love you haven't felt ever before. You watch your kid reveling in the discoveries of each day's life, like rolling over, crawling, or even walking. Little by little you begin to feel the motherly need to protect him. That's why you have to think of one of the most important tasks you have to do, baby-proofing your house.
Whether your due date is approaching or you already have given birth to this miracle of life, you must ensure that you baby-proof your house, so that your child doesn't hurt himself the first time he'll try to reach for something.
Are thinking about what will your baby get into once he'll begin crawling, or walking? A useful tip for detecting the dangers in your home would be to try and crawl around in every room of your house. This way you can see what dangers are laying around from a child's eye. Make sure that your house is baby-safe and whatever your baby will try to open, pull on, or play won't hurt him. You will have to secure every room in your house, to make it a safe place. Here are some tips for you to follow, so that baby-proofing your home won't look like such a nightmare. It will give you the much-needed peace of mind.
General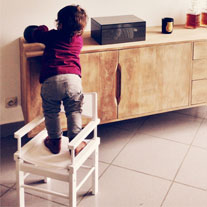 Let's start with some general safety tips that will keep your home safe for your little one:
Detect the areas where you have items that could present a hazard to your child. Use locks to isolate those items in your drawers or cupboards.
Kids are curious and put their little hands everywhere. If you don't already have, you might consider some doorstops to prevent trapped fingers.
Look around. Do you have sharp corners in the house? Look at your coffee table or at any type of wood furniture. Use corner cushions to protect your child.
Pick up all small objects and place them on higher levels, so your child can't reach them. They can present choking hazards.
Is your rubbish bin reachable for your kid? Then be careful what you put in it, or make the bin inaccessible to the child.
Make sure to buy toys that are suitable for your child's age. Some toys are very small or have small parts, which may represent a choking hazard.
If you have stairs, you may consider putting stair gates at the top and bottom of the stairs. Make sure they are closed and locked.
Electricity-Related Safety
Let's examine your electric stuff around the house. Take a close look at the main switchboard, power points, and cords:
Do you have any unused power points? Just imagine is your little bundle of joy could put his fingers inside. Your can prevent this from happening by inserting safety plugs in your unused power points.
Make sure that you don't have any electrical cords laying around or dangling. Your child could pull them and the electrical appliance may fall on him.
You can also use a safety cut-out switch, which can be installed at the main switchboard.
Windows And Glass Doors
We all know that windows are dangerous for little kids. They can easily fall out of an open window with their natural curiosity.
You may want to consider installing safety glass on your windows and glass doors. You can also use shatter resistant film. The film will stop the pieces of the glass from shattering and dispersing, if it breaks.
If you have low level windows, you can help your children see the window by putting stickers on it. It's a great activity that you can do together.
Teach your child to play away from windows.
Keep a special attention to your curtains and blinds, which may have cord attached. It may represent strangulation hazard to your little bundle of joy. You can purchase special safety toggles to fit the cords.
Terraces And Balconies
Small children can fall off from a balcony or terrace. To ensure their safety you may consider the balustrades:
Make sure that the balustrades are least one meter high and the vertical bars are not too far one from another.
Check and see if you have any vertical bar that is loose. This can create a large gap.
Move your furniture, pot plants and any other objects away from the edge of the balcony.
Never let your child alone on the balcony or terrace.
Kitchen Safety
There are all kind of dangerous objects in the kitchen, so just make sure that it is baby-proofed.
Remember how you did for your drawers? You may consider locks to put also on your oven, microwave, fridge, and dishwasher.
Keep away from your kid's reach any sharp objects.
Because plastic bags are a real danger to small kids, you may think about keeping them out of reach.
Other Safety Tips
If you don't have smoke alarms in your house, make sure to install some. They must be checked on a regular basis. Also, you may consider keeping a fire extinguisher in the kitchen.
While you're in cooking the kitchen, make sure to keep pan handles turned away from the reach of your child.
Are you a smoker, or do you use matches to start the fire? Then consider keeping matchers and lighter out of the reach of your child.
A good thing to do is to ensure that the water in your bathroom is delivered at a temperature no higher than 50oC. To do this you can place a thermostatic valve.
Be aware at slippery floors and rugs with edges, where the baby can trip over. You can place anti-slip mats under your rugs.
If you take one step at a time, making your home safe for your child can be an easy thing to do. Happy baby-proofing!
Our blogger OanaWrites

Oana Popescu is a freelance writer, and a proud mother of a four year old boy. She contributes articles about parenting and lifestyle.
Read more on this blog: The never ending co-sleeping debate
All blogs by OanaWrites
Do you want to write a blog and share your story about your pregnancy, childbirth and baby? Then we are looking for you!
Find Beautiful baby names 2023
Best articles about Pregnancy and baby blogs
A constant stream of new pregnancy and baby blogs. Our bloggers tell about their pregnancy and about becoming mommy. Read about our our favorite mommy blog Read our best articles: