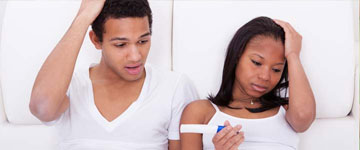 Getting pregnant Help! I am pregnant!
We often get questions from young girls/women who are pregnant and have no idea about what to do. In the following chapter, we will try to help you.
First read this to check whether or not you are really pregnant.
You just did a pregnancy test and discovered that you are pregnant. A pregnancy test is really the only way to be certain that you are pregnant.
Help! What should you do now?
Tell someone!
It is very important that you talk to someone. You cannot stay alone and suffer in silence. First talk to someone you trust, a friend, your brother or sister, a professor/teacher, your family, friends of your parents, or your parents. If you do not dare to talk about it, there are many websites that can guide you. Info for teens is one of them. You can go to their website and chat directly with their experts. They have nearly 100 years of experience and can help you with pregnancy. You can tell your story or ask your question.
When do you have to tell your parents?
Assume that you will have to tell them sooner or later. Your baby grows and your belly will show soon and therefore waiting will only make it more difficult for you to tell. Your parents will obviously be shocked. Be ready for this! Let them recover from the shock. Once past the initial surprise, they can help you. Your mother was pregnant with you and cared for you when you were born. She can share her experience and help you.
You are reluctant to talk to your parents
You can get help from various agencies. They can help you decide what to do with your pregnancy and help you consider the best way to start the conversation with your parents.
Your GP
Your school nurse
Think about your own health and that of your baby
You now have the responsibility of this tiny little baby in your belly. Whatever your decision is going to be regarding the pregnancy, it would be good to quit smoking now, and to consume no alcohol or drugs. You can find more information here about what is healthy for you and your baby. We also recommend that you contact your doctor as soon as possible. He/she can bring you invaluable help on what is important in your situation.
Teen pregnancy in the United States
In 1991, 6,2% of teenage girls in the United States between the ages of 15 and 19 became pregnant. From then on teenage pregnancy rates have declined. In 2013, 2,6% of teenage girls in the United States between the ages of 15 and 19 became pregnant.
Still has the United States one of the highest teen pregnancy rates in the western industrialized world.
8 in 10 fathers of children born to teen mothers do not marry/stay with the mothers.
Only 1 in 5 teen mothers receive any financial support from their child's father.
50% teen mothers drop out of high school, making pregnancy the primary reason young women drop out early. Only 50% of teen mothers complete high school by age 22, compared to 90% of women who delay parenthood until age 21 or older.
Find Beautiful baby names 2023
Best articles about Getting pregnant
How to get pregnant and have a baby? Best methods to become pregnant. Read our best articles: