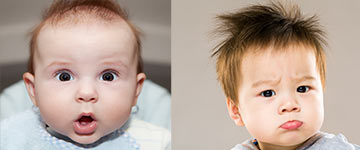 Pregnancy information Color of your baby's hair
Do you want to predict the hair color of your baby? Take the quiz!
What hair color will your baby get? Will it be a brunet, a goldilocks or will your child get a rare red-haired haircut? Predicting the exact hair color remains complicated. Simply because less research has been done than when predicting eye color. In addition, there are also super many hair shades, which makes it difficult to give an exact result, but fortunately we can check on which hair color your baby has the best chance!
Heredity plays an important role when it comes to the hair color of your baby. As parents you pass on 2 types of pigment (melanin) to your baby: the blonde / black gene and the non-red / red gene. The amount of pigment passed on with the blonde / black gene determines whether your baby will get dark hair (more black genes) or light hair (more blonde genes). Then there is also the non-red gene, which is dominant over the red gene. So if one of the parents passes on the non-red gene, the baby's hair color will be non-red. For a red hair color, both parents must pass on the red gene.
You already notice that a whole range of colors is created during the mixing of all passed on genes and then the hair color of your baby after birth actually says nothing. Your baby's hair color can still change! If your baby is six months old, the "nesting hairs" will fall out and your baby will get new hair. Even then the hair color is not definitive, because almost everyone gets a darker hair color as you get older.
Still, it's very nice to see what happens when we mix your hair genes! Curious about which hair color your baby has the best chance of? Answer the following 2 questions and check the result of the online hair color test!
Find Beautiful baby names 2023
Best articles about Pregnancy information
This webpage offers information about your Pregnancy. Read our best articles: