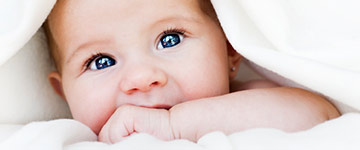 Pregnancy information Color of your baby's eyes
Do you want to predict the color of your baby's eyes? Do the quiz!
What color of eyes will your baby get? That depends on the amount of pigment (melanin) in the pigment cells of your baby. The color of the eyes is hereditary. If your baby has a lot of pigment, the eye color will turn brown. With little pigment your baby will get blue or gray eyes. And if the amount of pigment is between brown and blue / gray, then your baby's eye color can turn green! Brown eyes are the most common; green eyes the least.
Your baby's eye color may change in the first months. This is because babies have little pigment when they are born. Most white babies are born with blue eyes, but the eye color can change to brown or green. Babies with a darker skin color are often born with light brown or light gray eyes, but the color of the eyes can change to a darker color.
The final eye color of your baby can be seen in most children after 6 months. The color eyes of your child can still change until the sixth birthday. Your child's eyes usually get a little darker in the first 6 years of his life and the final eye color can only be seen.
Curious about the color of your baby's eyes? Answer the following 2 questions and check the result of the online eye color quiz!
Find Beautiful baby names 2024
Best articles about Pregnancy information
This webpage offers information about your Pregnancy. Read our best articles: