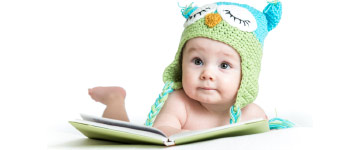 Labor and baby birth Necessary equipment
Having your first baby can be quite scary at first. He does not come with a user manual! Here is a list of basic equipment you will need to take care of your new-born baby: all the essentials necessary to clean, feed, change baby and even the basic pharmacy for common baby ailments.
Cleaning baby
1 mini-tub, possibly vertical (looks like a bucket) or a chair to use in your own bathtub
1 changing mat (to lay on the changing table)
2 changing mat fitted covers
1 diaper bin (with a sealed lid, otherwise it is better to throw them immediately in the outside container)
12 linen towels: useful for everything (to dry your baby's bottom as well as to protect your clothing from regurgitation, also very practical to use in bed under the baby's head)
Optional 1 balance: to follow the weight gain (especially if baby is breastfed)
Baby care
1 small soft hairbrush
3-4 small cotton towels
1 pair of small nail scissors with rounded tip
1 mild baby shampoo
1 cleansing gel without soap
1 cleansing milk or lotion
The basic pharmacy
1 thermometer
1 baby nose cleaner (sucking the snot out)
1 box of saline solution in single doses (for nose and eyes)
1 infant paracetamol syrup (preferably with pipette)
1 infant ibuprofen syrup (preferably with pipette)
Warning: always check carefully from what age a medicine can be given to your child!
Changing baby
1 package of diapers for infants (size adapted to the baby weight, start with new-born size)
1 pack of wipes (if you plan to use them)
Alternatively, a pack of cotton wools and a large bowl (if you plan to clean your baby's bottom with water rather than wipes)
1 tube of cream to treat red bottoms (such as Bépantène)
1 tube of emollient and protective fat cream (such as Vaseline).
Caution: It is recommended to avoid using talc powder on an infant
Feeding baby
6-8 bottles (1-2 only if you plan to breastfeed)
1 sterilizer
1 bottle brush to thoroughly clean the bottles
1 bottle warmer (it is recommended not to use the microwave because of the risk of burns)
Warning: ALWAYS test the temperature of the milk on your forearm before giving it to your baby!
1 breast pump to express your milk if you are breastfeeding (very handy for 1/ having a stock of milk, 2/ involving daddy for example by giving a bottle at night instead of breastfeeding... mummy can rest and 3/ stimulating milk production)
Warning: the breast pump should also be sterilized!
On the move
1 car seat (Maxi-Cosi for example)
1 diaper bag with foldable changing mat in plastic (to change baby whatever level of hygiene the support has...)
1 pushchair ideally choose a stroller that can be scalable from lying completely flat, or alternatively one on which you can attach the Maxi-Cosi (however lying down is the optimal transport position for baby's fragile spine)
That's it, you're all set to welcome baby.
Find Beautiful baby names 2023
Best articles about Labor and baby birth
This webpage offers information about your baby birth. Read our best articles: