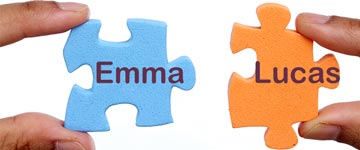 Babynames firstnames Name combiner with 2 names
Name combiner 2 names: Name generator mixer with 2 names
How do I mix or combine these names?
Would you like to name and combine your father or mother? This is the name generator that can mix 2 names into 1 name. The name generator for anyone who wants to combine two names into one beautiful baby name.
Do you want to combine names of parents? Do you want to combine names for baby name? The name generator turns two names into a list of cute baby names. The name generator uses a combination of letters of the entered names. With these letter combinations you will find all possible baby names. You can indicate whether you are looking for a boy's name or a girl's name and the maximum number of letters that the baby name may contain.
Use the link baby name generator if you want to see variations of 1 first name.
Find Beautiful baby names 2023
Best articles about Babynames firstnames
This webpage offers information about your baby names. Read our best articles: