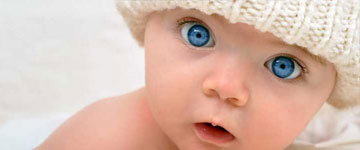 Babyupdate Baby 7 weeks old
My baby in week 7
Your newborn babyupdate every week about the development of your baby.
previous < your baby in week 7 > next
Tips for mom
If you are breastfeeding then your breasts will leak at first. As you feed from one breast you will feel the other breast dripping. Also if you are close to a baby crying, even if it is on the television, then your breasts may react and set off the milk flow. After a while the "shut off" mechanism of the breast will work better and you will experience less problems with leakage.
Your baby in week 7
Your baby will already be recognising you and especially your voice. He will turn his head towards you. He will also react when you laugh. In the mornings when you lean over the cot he will welcome you with a bright smile if he hasn't already let you know he needs feeding. You will also begin to see who your baby resembles.
Find Beautiful baby names 2023
Best articles about Babyupdate
This webpage offers information about your baby's first weeks. A Survival Guide about taking care of your baby the first weeks. Read our best articles: