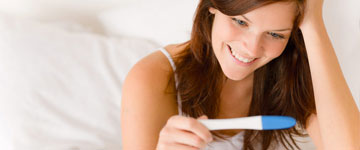 Pregnancy test Pregnancy test online
Would you like to know if you are pregnant? Or to keep track of when you're the most fertile? Please be advised that the answers regarding fertility are only valid for the next 24 hours! If you don't know the answer to a question, please leave the answer on "no".
Please fill in this questionnaire and you will get an instantaneous answer. More than 18,000 women have taken our online pregnancy test between their ovulation and menstruation (or the lack of it). The test results are based on the analysis of the most frequently encountered symptoms (e.g. fatigue felt by more than 80% of actually pregnant women) to the less frequent symptoms (darker areola in less than 40% of pregnancies) .
If you login or register, you can save the results of this test. This way you can keep track of your daily symptoms and determine your ovulation / fertile period.
If in doubt, please always contact your GP or your gynecologist. It is also possible that your symptoms may have a cause other than pregnancy. Our website is purely informative. And of course, should you have any comments or questions, do not hesitate to send an to the webmaster.
Find Beautiful baby names 2024
Best articles about Pregnancy test
Pregnancy test. How and when to do a pregnancy test and more information about pregnancy tests. Read our best articles: