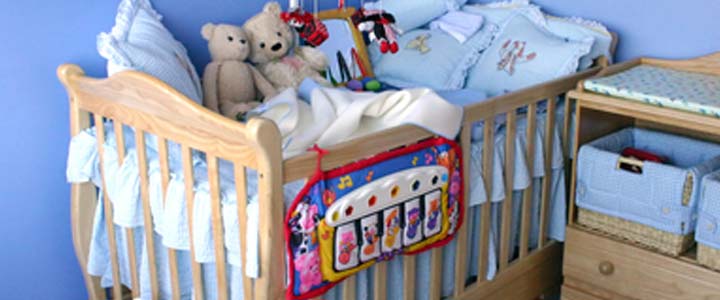 Pregnancy information Buy for baby's room
Here is a good layette and nursery list with all the explanations about what you really need.
The fun part of being pregnant is of course choosing for all the sweet and cute baby equipment for your unborn baby. But the offer of products is gigantic and buying them can turn out to be very expensive. Therefore it is important to be well informed about what you do and do not need. Buying stuff you won't use is always a waste of money. You can already go and check out the baby stores, online and high-street drugstores. We will help you step by step. Together with a large number of experienced mothers, we have compiled a list of required equipment for the first six months: things that were actually used on a daily basis.

TIP: Print this page and you will have the ideal checklist for the layette and nursery.
Prepare the nursery
A small crib or bassinet: it's worth investing in a good brand, especially if this is your first baby and you intend to have more babies. You can also buy it second hand as long as you change or thoroughly wash all the soft parts (mattress, padding).
A mattress for the crib: choose the right support and buy it new
A baby changing table or a simple table: the important thing is that it's at your height
A small closet: with a rod for hanging dresses if baby is a girl
2-3 fitted sheet: in cotton or sponge, fitting the mattress' size
2-3 pads: to install under the fitted sheet in the bed, cradle or pram (protects the mattress if baby spits his milk or if the nappy overflows)
2-3 blankets: preferably made of cotton (easier to wash)
1-2 sheets: in cotton, especially if the blankets are made of wool (can be itchy)
1-2 sleeping bags: ideal for keeping baby always warm. Warning: be sure to choose the appropriate size so that baby won't slip at the bottom (risk of suffocation). You can also wait a few weeks before putting baby in a sleeping bag because in some babies the Moro reflex (startle arms and legs) can be so strong that it will wake him up. In this case, the system sheet + blanket (plus optional swaddling) is more comfortable for baby.
1 water bottle: to help baby regulate his temperature during the first week
1 baby phone (baby monitor): to listen to your baby without disturbing him (make sure the range is long enough to use while traveling if the room is farthest)
1 night light: very convenient to feed baby at night without having to turn on bright light
1 armchair: to feed baby comfortably installed (especially enjoyed at night)
1 pair of blackout curtains: studies have shown that baby sleeps better in the dark and wakes up less easily especially when he enters the light sleep phase in the early hours of the morning
1 stretching cotton sheet : to swaddle baby
Making sure my baby is safe in bed
To ensure the safety of your baby and avoid any danger of suffocation, it is recommended when baby sleeps at birth in a small bed (not a cot) to keep your baby with his feet almost touching the bottom of the bed. This way baby does not run the risk to choke by slipping under the covers. The blanket and sheet must reach the baby's shoulders and be carefully tucked in to remain in place (you can use a rolled towel and slip it between the mattress and the bars to keep everything well in place). If the sheet or blanket are too long, tuck a larger part under the mattress at the foot, in order to use only the length necessary to cover your baby.
That's it, you're all set!
Baby's room is ready. Now check out:
Find Beautiful baby names 2024
Best articles about Pregnancy information
This webpage offers information about your Pregnancy. Read our best articles: