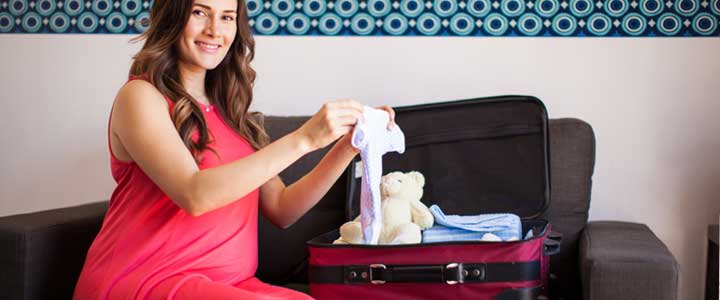 Labor and baby birth Preparing for birth
Here is a checklist of all you will need in the hospital or at the maternity. You just need to print it, pack your bag and tick the boxes! Keep in mind that you should keep the bag ready from the 37th week onwards.
Packing baby's first bag
3 bodies
2 sleepsuits/pyjamas
1 cotton hat to help baby regulate his body temperature
1 outfit for outside (possibly including coat if it's cold)
1 pair of small cotton mitts to prevent baby from scratching his face
1 small blanket
nappies if the hospital does not provide them
Packing your own bag
1 package of sanitary pads (special for birth)
3-4 old underwear (large and comfortable) or disposable panties
1 nightgown possibly allowing for breastfeeding, 1 dressing gown and slippers
1 pack of breast pads (if applicable)
1 tube of cream in case of cracks (type Bépantène) to apply after each feeding
2 nursing bras
Your usual toiletries (don't forget the toothpaste, rarely provided!)
1 pair of earplugs (if you have to share your room with another mother)
1 comfortable outfit to leave the hospital (forget the pre-pregnancy jeans ... for now!)
During labor
one old T-shirt or nightie (not risking anything)
1 pair of socks (barefoot, it's cold!)
1 lip balm
1 headband if you hair is long
magazines, books, iPod DS ... to relax and get your mind on something else
food (chocolate, energy bars, ... anything that can make you happy and give you energy) or change for the distributor. But do not to stuff yourself!
1 watch with seconds to measure the frequency of contractions
list of phone numbers of family and friends you would like to contact to announce the birth as well as your mobile phone if it is allowed
1 camera for the first moments!
That's it, you're all set!
The whole team of findababyname.com wishes you a wonderful birth!
If you haven't already checked it, have a look at:
Find Beautiful baby names 2023
Best articles about Labor and baby birth
This webpage offers information about your baby birth. Read our best articles: