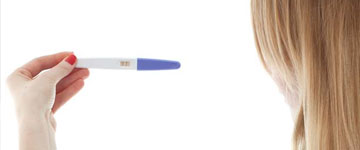 Pregnancy test Early pregnancy test
Extra sensitive pregnancy tests (20mlU/mL HCG)
With an extra sensitive pregnancy test (20mlU/mL HCG) you can test for pregnancy up to 4 days before your next expected menstruation date.  Due to the additional sensitivity of this test, the pregnancy hormone hCG can already be detected 4 days before menstruation.  So you can know sooner, and with more than 99% certainty, that you are pregnant!
It is important to recognize that early tests (more than 4 days before the expected menstruation date) are not recommended.  Many pregnancies (60%) abort early.  If you have used an extra sensitive test but also start to menstruate it appears as if you have had a miscarriage (false positive result).  In fact it is not a false positive or mistaken result because the pregnancy is in the sub-clinical stage (early pregnancy loss).  The current medical term used by the medical profession is "bio-chemical pregnancy" where there is a spontaneous loss of the fetus before the woman knows she is pregnant.
There are many different reasons why a large proportion of pregnancies terminate early in the first few weeks after fertilization.  Testing too early (more than 4 days prior to your next menstruation) may lead to a disappointment.
Extremely sensitive (10mlU/mL HCG) pregnancy tests
Pregnancy tests with a sensitivity of 10 mlU/mL hCG (6 days prior to the next menstruation) are not recommended by doctors and the medical profession for good reason.  There is more than 60% chance of the pregnancy terminating early in the first few days following fertilization.  Furthermore a woman who is not pregnant can have an hCG level between 0 mlU/mL and 10 mlU/mL.  The extremely sensitive test may therefore indicate a false positive (pregnant) result.  There are tests available which are highly commended and claim to give a result 7 days after possible fertilization.  Medically speaking this is not a real pregnancy (bio-chemical pregnancy).  Such tests can give doubtful results and the accompanying information may be misleading.
Normal (25mlU/mL HCG) pregnancy tests
The most common pregnancy tests have a sensitivity of 25mlU/mL and can be used from the first day following a missed period.  Some companies claim that these tests can show a pregnancy result at 4 days before the next expected menstruation date. This claim is misleading.  In addition there are "new" tests on the market with a sensitivity of 12.5mlU/mL.  These tests (confusing and inaccurate) are also highly commended for use 4 days before menstruation and claim to be reliable. For a reliable early test use the medically recommended level of 20 mlU/mL.
Find Beautiful baby names 2023
Best articles about Pregnancy test
Pregnancy test. How and when to do a pregnancy test and more information about pregnancy tests. Read our best articles: