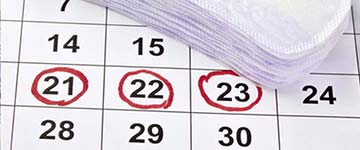 Getting pregnant Calculate ovulation date
Before you can get pregnant you have to have sexual intercourse during your ovulation. Your fertile period is about two weeks before your period. If you do not want to get pregnant you normally use a condom intended to stop the sperm or take the pill.
If you want to be pregnant soon, here are some tips:
Have sexual intercourse every two to three days during your fertile period. This allows your partner's sperm to be renewed and to stay in perfect condition.
Take folic acid.
Adopt a healthy lifestyle.
Calculate my ovulation date:
Your fertile period will start approximately on ..., which is four days before you expect to ovulate on .... Ovulation occurs about 14 days before you will menstruate again. In order to get pregnant try starting to have sexual intercourse with your partner four days prior to the day you ovulate.
Warning: this is an indication; please contact your GP or gynaecologist for exact results.
Find Beautiful baby names 2023
Best articles about Getting pregnant
How to get pregnant and have a baby? Best methods to become pregnant. Read our best articles: